Aya
あーや
Aaya
Statistics
Gender
Female
Classification
Selector
Shou Narumi
Debut
Anime
Lostorage incited WIXOSS - Episode 3
Seiyū
Yuri Yamaoka
Aya (あーや) was the LRIG of Shou Narumi. She serves as one of the main antagonists in Lostorage conflated WIXOSS.
Aya has short purple hair and takes on a fairy form when she grows.
Aya has a two-faced personality where she will act sweet and innocent, but secretly has a butch personality when tested.
She also repeatedly gets irritated and fed up with her Selector's habit of losing his cool and falling into a panic attack, whenever he has to face a girl that reminds him of his younger sister.
Aya is an LRIG most likely created from Shou's memories of his younger sister.
She initially appears fighting alongside her Selector Shou Narumi in the Selector Battles. However, after Shou loses his last coin against Satomi, she takes over his body. After she takes over his body, Aya joins Satomi in his revenge against the humans and is later seen at Satomi's shop.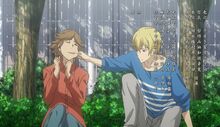 In Episode 10, Aya along with Guzuko are seen following Shohei and Chinatsu in order to record their interactions for Satomi's entertainment.
In the final episode, Aya is seen again hanging out with Guzuko, while Rio Koshiba is playing with her friends nearby.
Despite having a good relationship with her Selector, she gets visibly irritated and upset whenever Shou lets his sister complex rule his judgment. Furthermore, even after taking over her Selector's body, she states that she hates the idea of getting stuck in a male's body.
After Aya takes over her Selector's body, she becomes acquainted with Guzuko through Satomi. Despite the two of them being Satomi's gofers, she takes to acting like Guzuko's superior and bosses her around. Though, even after Satomi disappears, the two are shown to be hanging out together, implying that Aya considers her a friend.
Aya doesn't really like Satomi, but she begrudgingly puts up with him due to their similar pasts. She becomes Satomi's gofer out of necessity in order to survive in the human world.
Community content is available under
CC-BY-SA
unless otherwise noted.