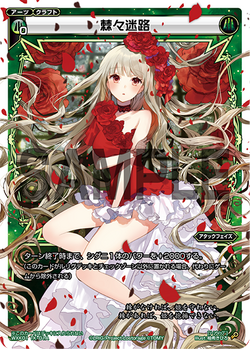 Craft (クラフト, Kurafuto) is a special card type.
Craft cards are not put into the deck or LRIG deck at the start of the game; instead, they are generated by the effects of other cards, much like tokens. Unlike other cards, craft cards are limited to existing in certain zones of the game, and when they leave these zones, they are excluded from the game.
A player is not required to have the physical craft card to make use of it; they can simply use a substitute. For example, if a player uses the On-Play ability of Ibarahime, Phantom Apparition Princess, they do not need the physical Thorny Maze card, they only need to somehow indicate that a card with Thorny Maze's Use Timing and effect has been added to the LRIG deck.
Community content is available under
CC-BY-SA
unless otherwise noted.