Make a Wish is the title of the second chapter of selector infected WIXOSS -peeping analyze-.
For her wish to be granted, Kiyoi Mizushima is being callous as she played her Selector battles.
Remember is angry that Kiyoi is ignoring her fortunes, and as a result they had their first loss. As she continued to babble about how great her fortunes are, she inadvertently pushed Kiyoi's wrong buttons. Realizing that Kiyoi hasn't responded, Remember knew that she was in the wrong and apologizes on her own way. Kiyoi blamed herself again for what happened with Ayumi, and Remember told her to stop.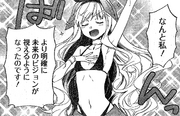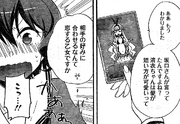 Remember claimed that she has evolved and she was able to see the future more clearly. Remember told Kiyoi that her wish 'to save Sakaguchi from her current circumstance' will be granted if she wins one more battle. She then asked what Kiyoi would do if her wish is granted. Which the latter replied that she would like to spend her time together with Sakaguchi.
Kiyoi then cut her hair short, and Remember told her that she were cutting it too short. Remember sighed in defeat at Kiyoi's helplessness, and claimed that she behaves like a lovestruck maiden, since she did it because Ayumi Sakaguchi said that she would look even cuter with short hair.
Afterwards, they met a selector and have battle. Remember asked Kiyoi to recite the oath together, so they could grant her wishes together. Kiyoi happily agreed as she envision her happy future with Sakaguchi. Remember is seen smiling at Kiyoi's response.
Community content is available under
CC-BY-SA
unless otherwise noted.