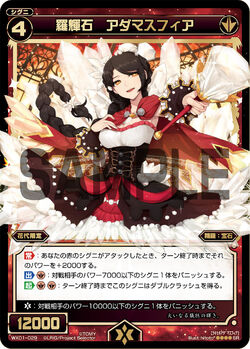 Gem (宝石, Hōseki) is a SIGNI class associated with red SIGNI. Like the Ore class, Gems share the same title of "Natural Stone" and are all named after precious stones.
Gems, as the name reveals, are all kinds of gems and jewels. They are portrayed often surrounded by the stone they are named after, though the colors are often dominated by red.
Gems are generally associated with Hanayo. Gems are characteristic of the color red, and as such have an aggressive playstyle. Many Gems have abilities that increase their power primarily during your turn, while others banish the opponent's SIGNI to clear the way for an attack (although they do not focus as much on banishing as Weapons). Some even directly crush the opponent's life cloth with abilities.
Gems and Ores are heavily related; not only do they share a similar power focus, most abilities that interact with one also interact with the other, to the extent that they can be considered the same class for most intents and purposes.
Main article: Category:Gem Support
Community content is available under
CC-BY-SA
unless otherwise noted.