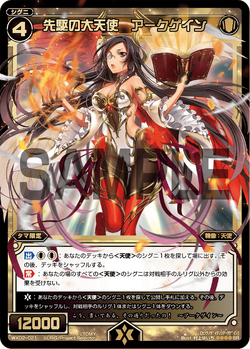 Image Spirit: Angel (精像:天使, Seizō: Tenshi) is a SIGNI class associated with all colors. Angel SIGNI are based on supernatural beings from various mythologies, including deities and angels.
White Angels are associated with Tama and Tawil, and focus on the primary abilities of the color white: search, bounce, and defense. Many Angels have effects that generate SIGNI, keep other Angel SIGNI on the field, and prevent the opponent from dealing damage to a player's Life Cloth. Their set of abilities is largely similar to Arms, the other large white SIGNI class, although Angels lean more towards defense than Arms do.
Although Angel SIGNI are primarily associated with white, Angel SIGNI can be found in all five colors. Red, blue, and green Angels are associated with Tawil, specifically Liwat, and focus on Liwat's strategy of benefiting from having Angel SIGNI of multiple colors. Black Angels are not directly associated with a LRIG, but tend to be used by Tawil, as well as decks using Ultum, Wielder of the Key of Chalk and Tamayorihime, Sunspot Miko.
Blue Angel SIGNI are also associated with Tama.
List of Angel SIGNI
Edit
Main article: Category:Angel Support
Community content is available under
CC-BY-SA
unless otherwise noted.