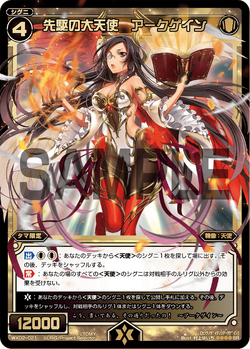 Image Spirit: Angel (精像:天使, Sei Zou: Tenshi) is a SIGNI class primarily associated with white SIGNI. The title of Angels are various and mostly unique to each Angel, though commonly related to religious and/or spiritual subjects. Some of the names may be based on the Judeo-Christian archangels, while others are based on angelic figures of mythology.
Being celestial messengers or holy soldiers, Angels are often depicted with very standard angelic features of feathered wings, heavenly rays of light, and often holding objects related to their origins such as books or swords.
In WX-21 Betrayed Selector, gods from various mythologies have been depicted as Angel SIGNI of colors other than white and black.
White Angels focus on the primary abilities of the color white: search, bounce, and defense. Many Angels have effects that generate SIGNI, keep other Angel SIGNI on the field, and prevent the opponent from dealing damage to a player's Life Cloth. Their set of abilities is largely similar to Arms, the other large white SIGNI class, although Angels lean more towards defense than Arms do.
Although Angel SIGNI are primarily associated with white, Angel SIGNI can be found in all five colors. Red, blue, and green Angels are associated with Tawil, specifically Liwat, and focus on Liwat's strategy of benefiting from having Angel SIGNI of multiple colors. Black Angels are not directly associated with a LRIG, but tend to be used by Tawil, as well as decks using Ultum, Wielder of the Key of Chalk and Tamayorihime, Sunspot Miko.
List of Angel SIGNI
Edit
Main article: Category:Angel Support
Community content is available under
CC-BY-SA
unless otherwise noted.