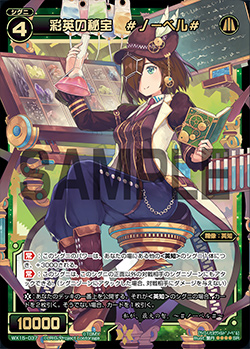 Image Spirit: Wisdom (精像:英知, Seizō: Eichi) is a SIGNI class primarily associated with blue SIGNI. However, they first appeared as green SIGNI in WX-15 Incited Selector.
Green Wisdom SIGNI are based on famous scholars and scientists, as well as mathematical and scientific concepts. Blue Wisdom SIGNI are based on concepts in economics and physics. White Wisdom SIGNI, as they are associated with Emma, are based on characters, objects, and concepts from the manga The Promised Neverland.
Green Wisdom SIGNI are associated with Mama and focus on managing the total level of your Wisdom SIGNI on the field. They have abilities designated with Wisdom = X, which are only active when the total level of the player's Wisdom SIGNI are equal to the specified number. Green Wisdom SIGNI have the capability to attack SIGNI Zones other than the one in front of them, allowing other allied SIGNI to crush the opponent's Life Cloth.
Blue Wisdom SIGNI are used by Remember and focus on checking the bottom card of your deck, getting bonuses if the bottom card or cards are SIGNI of certain levels. To facilitate this, blue Wisdom SIGNI can put specific cards on the bottom of your deck.
White Wisdom SIGNI are used by Emma and revolve around facilitating multiple attacks per turn by returning their own SIGNI to their hand and putting SIGNI onto the field during the attack phase. Many of them have bonuses that activate upon the fourth attack of the turn.
List of Wisdom SIGNI
Edit
Main article: Category:Wisdom Support
Community content is available under
CC-BY-SA
unless otherwise noted.