Kagari Yukino
雪野かがり
Yukino Kagari
Statistics
Age
16-17
Gender
Female
Classification

Human (Reborn)
Selector (Formerly)

LRIG
Yukime
Debut
Anime
Lostorage incited WIXOSS
Seiyū
Asuka Nishi
Kagari Yukino
(雪野かがり) is
Yukime
's Selector in
Lostorage incited WIXOSS.
Appearance
Edit
Kagari has short orange hair and wears her school uniform.
Personality
Edit
Kagari has a energetic personality, but was shown to be quite desperate when she was down to her last coin.
Background
Edit
Not much is known about her background, but it appears as if she comes from a good family.
Chronology
Edit
Kagari first appears in Episode 2 as Chinatsu's second opponent. She defeats Chinatsu in a battle and then unsuccessfully tries to cheer the despotic Chinatsu up when she loses.
She later is shown challenging Hanna, as she is desperate for an opponent, having lost the coins that she won from Chinatsu in prior battles and being now down to her last coin. When it looks like Hanna is about to beat her, she begs Hanna for mercy as there is someone she wants to see before disappearing. However, Hanna shows no mercy and defeats her. After that, her body is taken over by her LRIG, but what happens to Kagari is still unknown.
She is the first Selector to be eliminated and killed on the show as her LRIG commits suicide while in her body.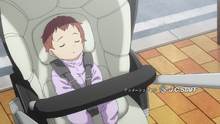 At the end of Lostorage conflated WIXOSS, after Kiyoi permanently ends the Selector Battles, Kagari is shown to have been reborn as a baby being strolled by the human version of Yukime.
Relationships
Edit
Yukime is Kagari's LRIG. They are shown to be good friends and battling partners. Later on, Yukime commits suicide while in Kagari's body, making it impossible for Kagari to return her to body, even if there was a way to retrieve the personalities of lost Selectors.
Play-style
Edit
She uses a White deck that focuses on predicting and removing cards.
Kagari is the first Selector to lose all of her coins, allowing her LRIG to possess her body. She is also the first Selector to die on the show.
Community content is available under
CC-BY-SA
unless otherwise noted.