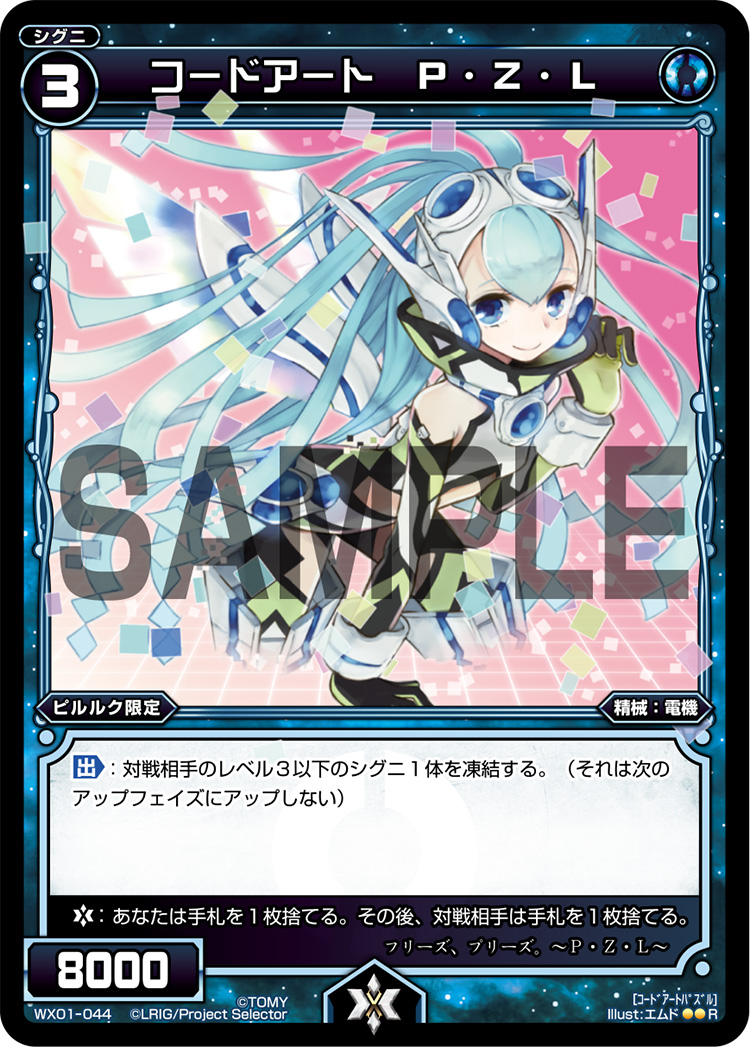 Machine Spirit: Electric Machine (精械:電機, Seikai: Denki) is a SIGNI class associated with all five colors. Most Electric Machines are titled "Code Art" (コードアート Kōdo Āto) and named after an abbreviation of assorted electrical appliances or other electric-related objects or machines. Their names are written as abbreviations.
Electric Machines are based on various types of electronics or things relating to electronics, most notably household appliances or computer hardware. There are a few Electric Machines that are named after affiliated groups or programs instead, such as technology concept groups or movies featuring advanced technology.
Blue Electric Machines are generally associated with Piruluk, and focus on the various control aspect of the color blue. They are capable of forcing the opponent to discard cards from their hand; they also focus on freezing SIGNI, either to gain bonuses based on the opponent having frozen SIGNI or to banish them outright. Many Electric Machine SIGNI also support the usage of spells, searching them from deck or retrieving them from the trash. They have access to abilities that draw, but do not focus on it as extensively as blue Water Beasts.
Black Electric Machines are also associated with Piruluk, and heavily lean into the spell supporting capabilities of Piruluk's Electric Machines, being support for Code Piruluk VERMILION and Code Piruluk APEX.
Green Electric Machines are associated with Piruluk as well.
Nijisanji is associated with white, blue, and red Electric Machine SIGNI, but they are centered around white. They focus on the subscriber mechanic, gaining bonuses depending on the number of subscribers the player has.
List of Electric Machine SIGNI
Edit
List of Electric Machine Resona
Edit
Main article: Category:Electric Machine Support
Community content is available under
CC-BY-SA
unless otherwise noted.