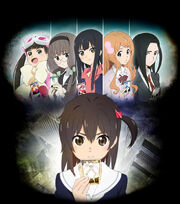 "
Hope, desire, greed.

Girls with each of these feelings in their hearts are being swallowed into the vortex of a dangerous game….

"
selector infected WIXOSS (Serekuta Infekuteddo Uikurosu) is an original anime series by LRIG, a collaboration of Warner Home Video, Takara Tomy, and J.C.STAFF. The anime began broadcasting on April 3, 2014. The opening theme is "killy killy JOKER" by Kanon Wakeshima while the ending theme is "realize -The Place Awaits for Dream-" by Cyua.
In the popular game WIXOSS, there are special cards called LRIGs that few players know about—cards that possess personalities and wills of their own. Ruko is a teenage girl who just found one of these rare cards. Now, she can use her LRIG to battle in a strange, dark plane of existence. If she wins, her wishes will be granted—but what happens if she loses?[1]
In this world, the card game "WIXOSS" is a big hit. A chosen few WIXOSS players, known as "Selectors", have special cards called "LRIGs". Selectors battle against each other to pursue their wish; if a Selector wins enough battles, their most heartfelt wish will be granted.
Rūko Kominato, who recently transferred to a new school, was given a deck of WIXOSS cards from her brother, Ayumu Kominato. Then, Rūko's classmate, Yuzuki Kurebayashi, suddenly challenges her to a Selector Battle...
No.
Subtitle
Original Air Date
1
This Miracle Is Trembling (

この奇跡は兢々

Kono Kiseki wa Kyōkyō)
April 3, 2014
2
That Encounter Is Poisonous (

その出会いは劇薬

Sono Deai wa Gekiyaku)
April 10, 2014
3
This Peace Is Nonsense (

この平和は戯言

Kono Heiwa wa Zaregoto)
April 17, 2014
4
That Prayer Is Blasphemy (

その祈りは冒涜

Sono Inori wa Bōtoku)
April 24, 2014
5
That Oath Is Invalid (

あの誓いは無効

Ano Chikai wa Mukō)
May 1, 2014
6
This Heart Is Pure White (

この胸は純白

Kono Mune wa Junpaku)
May 8, 2014
7
That Girl Is Longing (

その少女は切望

Sono Shōjo wa Setsubō)
May 15, 2014
8
That Contract Is Fake (

あの契は虚事

Ano Chigiri wa Soragoto)
May 22, 2014
9
That Truth Is Cruel (

その真実は無情

Sono Shinjitsu wa Mujō)
May 29, 2014
10
That Emotion Is Drifting (

あの思いは漂着

Ano Omoi wa Hyōchaku)
June 5, 2014
11
That Summer Is Aspiring (

あの夏は憧憬

Ano Natsu wa Dōkei)
June 12, 2014
12
That Selection... (

その選択は…

Sono Sentaku wa…)
June 19, 2014
Original Work: LRIG (Warner Entertainment Japan ⅹ TAKARA TOMY ⅹ J.C.STAFF)
Director: Takuya Satō
Series Composition: Mari Okada
Character Design: Kyuta Sakai
WIXOSS Supervisor: Tomo Yamaguchi
Prop Design: Ken'ichi Takase
Art Director: Kentaro Akiyama (Studio Pablo)
Color Setting: Yukiko Itō
Photograph Director: Shingo Fukuyo
Editing: Masahiro Gotō (REAL-T)
Sound Director: Yoshikazu Iwanami
Music: Maiko Iuchi
Animation Production: J.C.STAFF
Production: Project Selector
Links
References
Community content is available under
CC-BY-SA
unless otherwise noted.