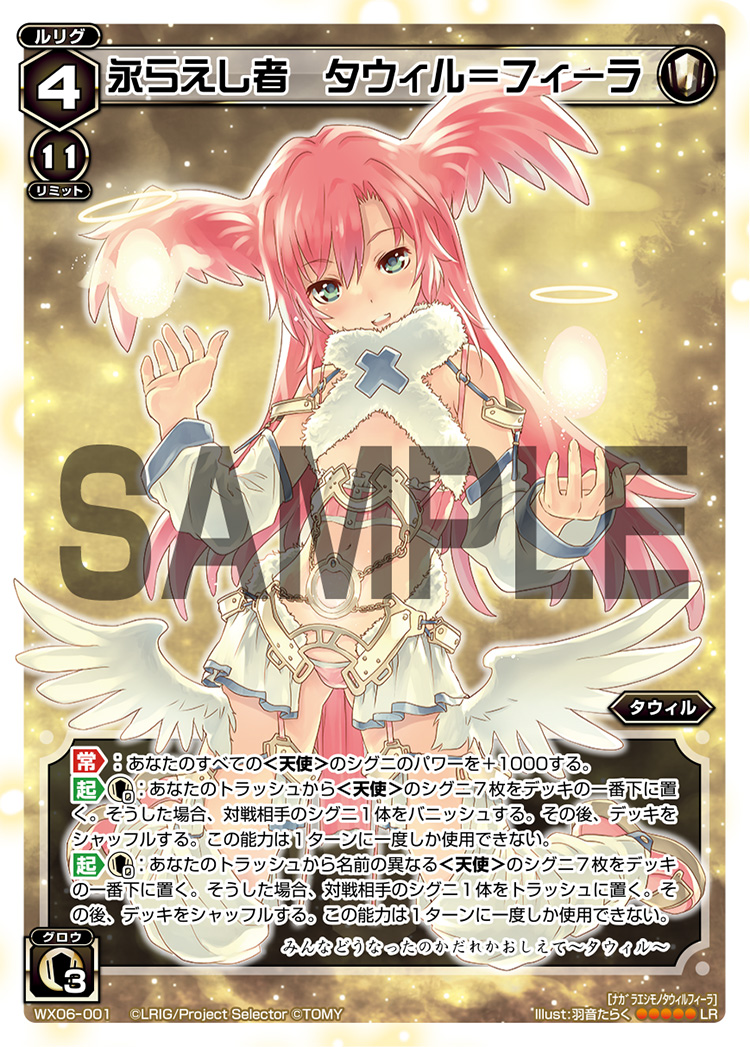 Tawil (タウィル, Tauiru) is a LRIG type primarily associated with white, although the LRIG type has been known to show up on the red, blue, and green Liwat (リワト, Riwato). Tawil first appeared in WX-06 Fortune Selector.
White Tawil decks focus on playing high-powered Angel SIGNI while providing a steady stream of removal, often putting SIGNI directly into the trash rather than banishing them or returning them to the hand. Tawil has little of the flexibility that Tama has, but in exchange, her effects have comparatively more power.
Liwat-based Tawil decks also use Angel SIGNI, with a focus on playing Angel SIGNI of multiple colors.
LRIG cards
Edit
Tawil support cards
Edit
Tawil, along with Umr, is named after 'Umr al-Tawil, one of the avatars of Yog-Sothoth in the Cthulhu mythos.
In flavor text, Tawil speaks entirely in hiragana, and mostly without punctuation.
Although Tawil has not appeared in any anime, she has a voice actor: Nozomi Furuki. Voice samples of Tawil can be found in this WIXOSS site column.
Community content is available under
CC-BY-SA
unless otherwise noted.