I haven't made one of these posts in years, but I figured that a centralized post for new WIXOSS news is best when a bunch of information comes out at once.
A few days ago, Takara Tomy aired an eight-hour stream, the AIR WIXOSS FUTURE EXPO, to talk about a bunch of WIXOSS stuff, including showing off a bunch of WIXOSS news. Due to the COVID-19 pandemic, the expo was basically meant to be an online WIXOSS event, complete with some of the things that would normally be seen at WIXOSS events (see the #エアWXEXPO tag on Twitter for some of those). There were some puzzles about Ener, the mysterious Girl of Beginnings, as well as talk about the development of WIXOSS, but the most pertinent information to us overseas fans is news about the anime and cards, so let's get to that.
WIXOSS DIVA (A) LIVE
First off, we now have the name of the new anime about to air in Fall 2020: WIXOSS DIVA (A) LIVE! (Yes, the (A) is parenthesized. No, this has no relation to Date A Live.) This is pretty much the only new bit of information we got pertaining to the anime since the announcement a few months ago that a new anime was even going to happen; they didn't reveal any information about the setting or the characters or anything like that. All we can continue to extrapolate is that it will involve several teams of three LRIGs fighting, all of whom are idols of some sort.
Honestly, I have no expectations, positive or negative. The idol approach is certainly unexpected, but I have no particular like or dislike of idols, and I'm the type who rolls with the punches. I expect this to be wildly different from previous WIXOSS anime and I feel that comparing it to the old WIXOSS anime will only drag things down. I presume people will expect girls suffering and I'm all for that, but it's not a big deal to me if there isn't any.
(There shall be no griping about Lostorage in the comments below.)
Diva Selection and WIXOSS format information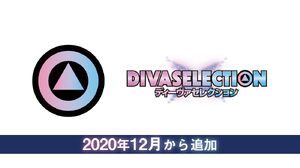 Next we have the announcement of a new format: Diva Selection, starting from December 2020 onwards. Diva Selection cards will be marked with the triangle-inside-a-circle symbol depicted to the right.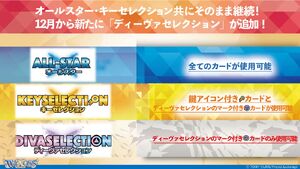 Here's a diagram about how the formats will work. All cards will be legal in All-Star as usual, while Diva Selection cards will be legal in Key Selection. Unsurprisingly, only cards with the Diva Selection symbol will be legal in Diva Selection.
It's a surprise that they're introducing a new format only two years and eight months after the beginning of Key Selection; I would have thought they would have let Key Selection sit for a bit longer, perhaps four years. Key Selection's card pool is rather small and undistinguished from the stuff surrounding it, so a new format seems odd. Maybe they're taking the opportunity to make a clean break from the aesthetics and/or gameplay of the KS era. Well, guess I'll roll with it.
At and her compatriots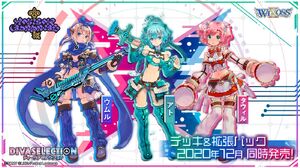 Now, we have a glimpse at our first three-LRIG team of Diva Selection: Umr, Tawil, and the previously revealed LRIG At. Their group is called "Ancient Surprise" (after ye olde Ancient Surprise), and the pre-built deck and expansion pack associated with them will be released in December 2020. Along with a nice picture of a long-haired At, they previewed pictures of new SIGNI, including a new incarnation of Shub and a girl that resembles Carnelian. Additionally, SIGNI will have a new keyword called "Music" (no word on what that does yet).
December's quite a surprise, as it's a long way off, being six months after the previous WIXOSS product released, WXK-P11 Re:incarnation. If we assume that there are no WIXOSS products to be released between Re:incarnation and Diva Selection, that's an enormous gap in releases. Usually WIXOSS products get announced about three months in advance, which makes it even more of a surprise. I presume COVID-19 troubles prevent them from being as frequent with releases as they want, and they released this new information to keep people interested in the future of WIXOSS.
If we go by the colors, Umr will retain her blue color from Key Selection, as will Tawil remain red. They also look reasonably similar to their Key Selection selves. Will this mean Umr and Tawil will keep some of their mechanics from Key Selection, or is it just the color they're keeping...
3v3 LRIG battles: Center and Assist LRIGs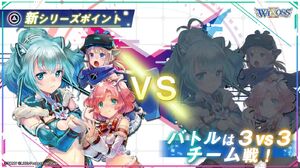 Finally, we get a little bit of information about the three-LRIG battle system. It's short on mechanical specifics, and the slides aren't the most illuminating things in the world, but the streamers talked quite a bit about it.
Each player will have three LRIGs on the field out at once: a Center LRIG (located in the middle), and two Assist LRIGs (located to the left and right of the Center LRIG), which will be on the field from the start of the game (i.e. you start with three level 0s).
All LRIGs will get Center and Assist versions, and you can put any of the three LRIGs you want as the Center LRIG.
Which LRIG is the Center LRIG and which are the Assist LRIGs is determined at the start of the game and cannot be changed in the middle of it.
Only the Center LRIG can attack, and only its LRIG type is counted for the purposes of your cards' limiting conditions.
When you grow, all three of your LRIGs grow.
These LRIGs will feature grow effects.
LRIGs are not locked to a single group; for example, you do not need to group Umr, At, and Tawil together, you can switch them with LRIGs outside of Ancient Surprise.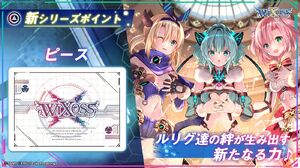 However, if you do have all three LRIGs of a single group together, you get access to a special sideways card called a "Piece" ("peace" was never an option). A Piece is the crystallization of the bonds between LRIGs, and it functions as a team's super move.
The card back for Piece cards is noticeably different from the previous WIXOSS card back. It's a white card back, so it presumably goes into the LRIG deck. The card back is more aesthetically technological than previous WIXOSS cards, and it has a different Engrishy paragraph from the original card back, too.
This is a mysterious phenomenon originating from the bond of unity.
The individual soul is empowered.
at times with the cry of the soul to the universe.
creating a movement in the world.
Just believe in the power its users.
Overall, there's been surprisingly little concrete information about how the new mechanics will work. There haven't been any new cards shown, or anything. This is probably because the new content is five months off and they don't want to show everything just yet, but five months until the next release is highly unusual in itself. Again, extenuating circumstances are probably involved.
New SIGNI
Technically, they showed these new SIGNI off before presenting all the above information about the new anime. But that doesn't make a lot of sense, so I'm talking about these second. It's uncertain how these SIGNI will be connected to the new series. Will their colors and classes be connected to new LRIGs, or will they be weird standalones?
Slime Mage
First off, we have Slime Mage, which is related to Slime, Slime Queen, and Armored Slime in some way, shape, or form. The presence of a SIGNI so strongly connected to old Key Selection SIGNI suggests that Key Selection LRIGs will still get support in Diva Selection through new SIGNI with their colors and associated classes, unless Slime Mage turns out to not be a Devil.
Gan Ning and Three Kingdoms SIGNI
You know how a bunch of black Valor SIGNI are based on historical figures from Wei of the Three Kingdoms? Well, it looks like we're gonna get more SIGNI from the Three Kingdoms: Shu will be associated with white Valor SIGNI, while Wu will be associated with blue Valor SIGNI.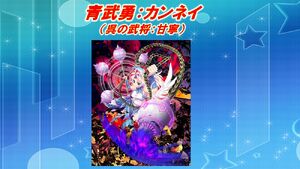 They even previewed art for one such Valor SIGNI: Gan Ning/Kannei, a former notorious pirate who joined up with Wu.
Black Energe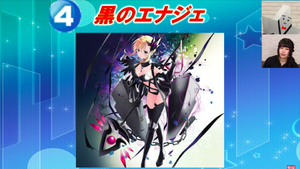 We've had an Energe, a big Energe, a colorless Energe, and a red Energe, and Takara Tomy has deigned to continue the line with a shiny new black Energe, which is said to be of a high rarity. She has fantastic art, I might add; no more of those out-of-place striped socks.
So that's all I've managed to compile from the stream. If you have thoughts, leave 'em in the comments.
Community content is available under
CC-BY-SA
unless otherwise noted.