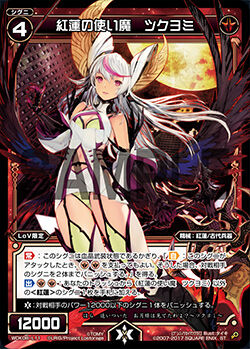 Vermilion (紅蓮, Guren) is a SIGNI class associated with red SIGNI. They are based off of characters from the arcade-based card game Lord of Vermilion; as a result, all of them are considered to be collaboration cards.
Vermilion SIGNI are associated with LoV, and revolve around the blood crystal arm mechanic, powering up your SIGNI with copies of themselves. All Vermilion SIGNI are also Ancient Weapon SIGNI, allowing them access to Ancient Weapon support.
Main article: Category:Vermilion Support
Community content is available under
CC-BY-SA
unless otherwise noted.