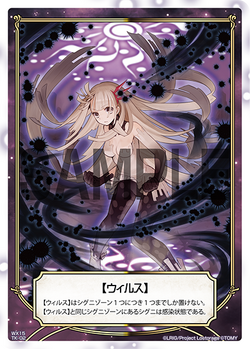 A Virus (ウィルス U~irusu) is a game object that can be manipulated by the LRIG Nanashi and her Bacteria SIGNI.
The effects of certain cards put Viruses on your opponent's SIGNI Zones. As long as a SIGNI Zone has a Virus on it, SIGNI on those SIGNI Zones are infected (感染状態, kansen jōtai). Being infected has no effects in itself, but infected SIGNI are susceptible to effects that specify infected SIGNI. Whenever an infected SIGNI is moved to another SIGNI Zone without a Virus, it is no longer infected.
A SIGNI Zone can only have one Virus on it at a time.
Community content is available under
CC-BY-SA
unless otherwise noted.