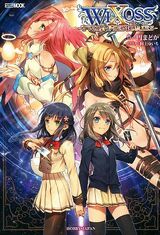 WIXOSS -TWIN MEMORIES- is a WIXOSS novel published by Hobby Japan. It was written by Madoka Kamadoya, with cover and illustrations drawn by Yuichi Murakami. It was published on March 10, 2016.
The story has no direct relevance to the selector series or WIXOSS -TWIN WING-, although the characters of TWIN WING did make a cameo.
Risa Tamaki, who was on a hiatus from WIXOSS due to going on to higher-level education, was invited by her classmate Asuka Suzu to become battle partners. Segments about Umr and Tawil are inserted into the story as dreams Risa sees every night, which reveal the background world behind WIXOSS.
Risa Tamaki (玉置 莉咲)
Asuka Suzu (珠洲 明日香)
Chikae Tatsumi (辰巳 誓衛)
Sora Yasumi (八角 空)
Sharifa (シャリファ)
Asma (アスマ)
Community content is available under
CC-BY-SA
unless otherwise noted.