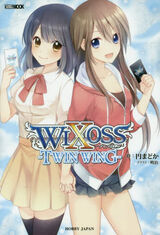 WIXOSS -TWIN WING- is a WIXOSS novel published by Hobby Japan. It was written by Madoka Kamadoya, and the cover and text illustrated by Meiji (明治). It was published in September 30th, 2015.
The main subject of the book is the friendship between the main characters. The novel is disconnected from the events of the selector series, with supernatural elements like Eternal Girls being largely regarded as urban legends. However, LRIGs appear in the third chapter.
Chiharu Mayumi is a junior high school student who decides to join the WIXOSS Japan Cup national tournament. After winning many consecutive games, she is proud of her skills and becomes a representative from her district. However, while in the qualifying stages of the tournament, she was involved in a traffic accident. Despite miraculously surviving, Chiharu loses her memory of the previous few years and is hospitalized for one and half more years, delaying her high school admission by one year.
Chiharu lost her memories about WIXOSS and does not remember that she is often engrossed in the game. She meets Misaki Satomi, her former opponent on the semi-final, befriends her, and deepens their friendship through WIXOSS.
Chiharu Mayumi (真弓 千春)

The heroine of the story, a powerful WIXOSS player who had traffic accident before the district Championship's final qualifier, resulting in memory loss. She met Misaki, who stopped by a card shop she was in.

Misaki Satomi (里見 美咲)

She first meet Chiharu when she lost a game two years ago in the semi-final qualifiers. Chiharu has no memory of her, and Misaki agreed to help her with her memory loss about WIXOSS.

Miyuki Nagi (御幸 凪)

Nagi is a waitress in a restaurant. Two years ago she was scheduled to fight Chiharu, but because of the accident she got an auto-win and was representing the district. She was eliminated on the first round, and has become bitter.

Takuya Mitsuki (観月 拓也)

His nickname is Tsuki. He is a male clerk of the restaurant Nagi works at. He used to be a notorious WIXOSS player.
Community content is available under
CC-BY-SA
unless otherwise noted.