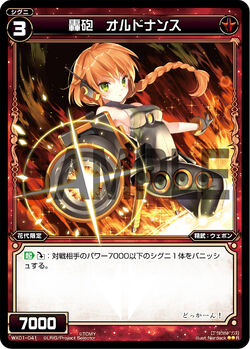 Weapon (ウェポン, Uepon) is a SIGNI class associated with red and black SIGNI. Red Weapons are based on various types of guns, explosives, and other forms of ranged weaponry, while black Weapons are based on various magical books.
Red Weapons focus on the standard strategy of the color red: aggression and banishing the opponent's SIGNI. In addition, Weapons support and are supported by the Arm SIGNI class. The majority of red Weapons are generic, but a sizable number are associated with Tama or Hanayo.
Black Weapons are associated with Nanashi. Their strategy involves accumulating cards underneath your SIGNI, using them as a resource or to activate the bonuses of certain abilities. Black Weapons use the Rise mechanic to facilitate this, but they do not use Rise at the same volume as Ril.
Main article: Category:Weapon Support
Community content is available under
CC-BY-SA
unless otherwise noted.